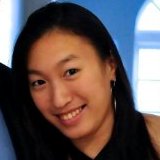 Vicki Cheung
I build things.
---
Work
Most recently I was the engineering lead at TrueVault, working on the core platform API and infrastructure.
Previously, I was at Duolingo and saw it grow from a team of four to forty. I led the development of the Incubator, a platform to crowdsource language course creation. I also built the Android app and the website, and worked on a number of other projects, including the API and the speech recognition grading engine.
---
Life
I love building things, preferably while cuddling with my puppy and listening to EDM. I occassionally organize board game meetups, which are turning out to be rather popular. Lately, I've started boxing.
---